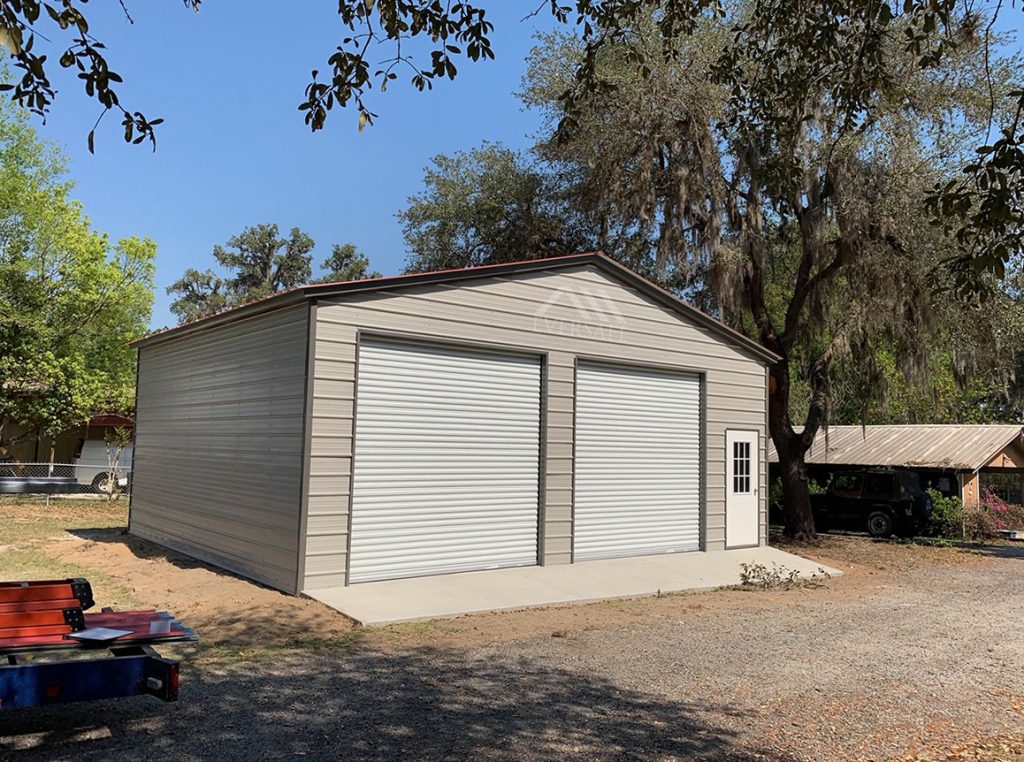 If you're in search of a strong, high-quality 30×30 steel garage, Eversafe has you covered. We supply metal buildings manufactured using only high-quality galvanized steel.
Our 30×30 steel garages are only installed by trusted and professional erectors. You can expect your new garage to be fully erected within a matter of a day or two from the time the installers arrive at your property.
We provide a wide variety of metal garages, metal workshops, steel storage buildings and metal RV shelters which require little to no maintenance. We stand by our products and offer a superior warranty on all metal buildings.
Features You Can Customize:
Side walls and end walls
Roof style
Wall, roof, trim and door colors
Lean-to additions for low cost shade cover or covered outdoor work areas
Add windows, walk doors, garage doors, insulation and other accessories
Other customizable options
Most Popular 30×30 Steel Garages
30×30 Steel Garage Prices
Price of 30×30 steel garages will vary depending on number of factors:
Height of the building
Gauge of steel sheeting and framing
Insulated building vs not Insulated
Size and quantity of roll up doors
Quantity of walk doors
Quantity of windows
For example, a 30×30 steel garage with 2-10'x9′ roll up doors and one frame out for a walk door is $16,986*. This price will increase if you add additional options such as doors, windows, or increase the wall height of the building.
In addition, you can add a lean-to to a 30 x 30 metal garage which is a creative and cost-effective way of adding extra storage.
Please note, this price is only good for specific States and may vary depending on local snow and/or wind loads and local building code requirements.
Why Buy 30×30 Steel Garage Building?
There are a wide variety of options available when it comes to purchasing and erecting a metal building. One option is building on-site with galvanized steel. The steel we use is the most durable, long lasting approach to covering a metal building.
Being in business for over 28 years, we have had a lot of customers call in who are interested in replacing their dilapidated, paint peeling, wooden pole supported buildings with a steel building.
Our metal garage buildings are not affected by extreme weather, such as high winds, heavy rains, snow, ice or any other elements that could potentially damage the exterior frame of the building. If required, we can also provide certified stamped plans to meet any local snow and/or wind loads.
30×30 Steel Building Uses
There are many uses for 30×30 Steel garage. The most popular uses for this size include metal garage buildings, workshops, storage buildings, steel barns or metal RV shelters.
A superior alternative to wood or canvas, our metal buildings stand the test of time and give you years of maintenance free use. You can store cars, RV's or boats, heavy equipment or farm equipment with the guarantee that your valuables are protected from damage by the elements and kept secure against vandals or looters.
We offer many options for 30 x 30 steel garages such as roll up doors, walk doors, windows, and insulation and we have a variety of colors to choose from for the walls, roof and trim.
Installation of a 30 x 30 steel garage is done by highly qualified and trained installers. Once the truck arrives at the project site with the building materials, they will check to make sure you have the proper foundation and there is enough room to start the installation process. On a building this size, it is typical for the installation process to take anywhere from 1 to 2 days (weather permitting).
For any additional information about our 30 x 30 steel garage buildings, or metal garage buildings of any size, please call us today at 1-800-374-7106.
*Prices subject to change without notice and are subject to certain terms and conditions on this website. Prices may vary based on local building code requirements. Pictures displayed are examples only and may vary from actual model selected.