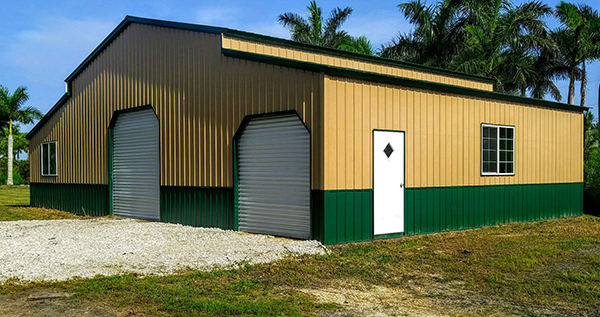 Eversafe prefabricated steel buildings allow for flexibility in design and are ideal for any commercial agricultural or residential use. Our farm building kits can be designed for large sliding or bi-fold doors to allow combines with large headers or planters to access. Commercial warehouses are easily configured to accept multiple dock bay doors and have high sidewalls for pallet racks. The residential structures from our plant can be customized for your needs whether it's a garage kit, workshop or small backyard building.
Can you run a business out of a metal prefab building? The answer is yes, and all over the country, thousands of businesses prefer to work out of these structures because they are affordable and can be designed and installed quickly. Competition for commercial property, especially if you are renting it out, is very high right now. If you have a bare property or an existing structure that needs to be upgraded, then metal is the way to go. You can demo the existing structure, put in the foundation and install the new one in a fraction of the time required for conventional construction so that it's ready to use for yourself or to rent out.
Prefabricated Steel Buildings Prices
Obviously, there are plenty of options out there for materials including wood, concrete, brick and others. So why should you go with metal for your next structure? How is it better than the others? How can it help you to save and/or generate more? This should help you in your decision:

Prefabricated steel buildings selection: What kind of options do you have when you want to order a metal structure? More than you may realize. You can order structures that are two stories tall or higher, 3 car garages, structures that have storage areas, room for an office and larger garage doors to store RV's and heavy-duty equipment and use for commercial or industrial purposes. You can choose features that look like any other traditional construction commercial building and there are always a selection of other design features you can add when choosing from our prefabricated steel buildings. Keep in mind, not all Eversafe options are large, you can also choose sizes that are smaller like workshops and garages that can fit on residential properties as well.
| Prefabricated Steel Building Uses | Most Popular Sizes |
| --- | --- |
| 2 Car Garage | 22x25 24x25 24x30 |
| 3 Car Garage | 24x36 24x30 30x30 |
| Workshop Buildings | 30x30 30x40 40x50 40x60 |
| Commercial Warehouses | 40x100 50x100 60x100 |
| Farm Equipment Storage Sheds | 36x48 40x60 40x80 50x100 |
Prefabricated steel buildings prices: Obviously, the prices are going to vary depending on what you want. However, when you compare prefabricated steel building prices to those of structures using concrete, wood, brick or anything else, you can start to see why these units are in such high demand. Think about the fact that the costs of materials are much lower, the cost of labor is also much lower because it's quicker to assemble these units and you can start to get a better idea of why so many commercial and residential property owners are choosing these units rather than the others. These prefabricated structures can help you save as much as 40% compared to conventional construction costs.
Prefab steel buildings installation: Again, it's the installation of these units that is part of the reason they are so popular. You select the location you want the unit installed and have the foundation put in. The foundation design is provided by Eversafe and is usually built with concrete, steel rod and sometimes gravel and in some areas is elevated to ensure that the structure and what is in it is protected from flooding. Prefab steel buildings ideally should be installed in an area that has access to power, otherwise generators are available to be used. Once construction is completed, you can also enhance the units with air conditioning, shelving, fans, lights and other features to make them more accommodating for you or the renter.
Durability and strength: Another surprising benefit of these structures is that they are built to last. Eversafe metal frame systems are one of the strongest on the market and their design allows it to withstand strong winds, even hurricane force winds. As the wind hits the walls, the design transfers the brunt of the strength of the wind down towards the foundation. The all steel galvanized framing will not become infested with termites and helps prevent corrosion and many issues that you may see with other types of masonry or wood structures. We use heavy double truss systems and increase the number of frames to meet the heaviest snow loads. Stamped engineer drawings are available certifying the wind and snow loads to facilitate pulling the permits if required.
Prefab Steel Buildings
As you browse our selection of prefabricated steel buildings, we hope that you will take advantage of our offer for a free quote. This is your chance to get detailed information about the dimensions that are available, durability, installation, time and prefabricated steel buildings prices. Our goal is to provide you with the best information so that you can make an informed decision on which units to buy and also how to get the most out of them. Many of our customers from all over the country use these units for different reasons and they find that metal is one of the most reliable and cost-effective materials to build with.
Eversafe prefab steel buildings are a great addition to any property because they are designed to last for decades, are easy to have installed and are very affordable. Our installations are backed by a workmanship warranty that guarantees you will have a problem free structure. If you are curious about any of the features or would like to learn about prices, you can call us today for a free quote and for further assistance. Let us help you to find the right unit for your property and learn how to get the most out of it as well.