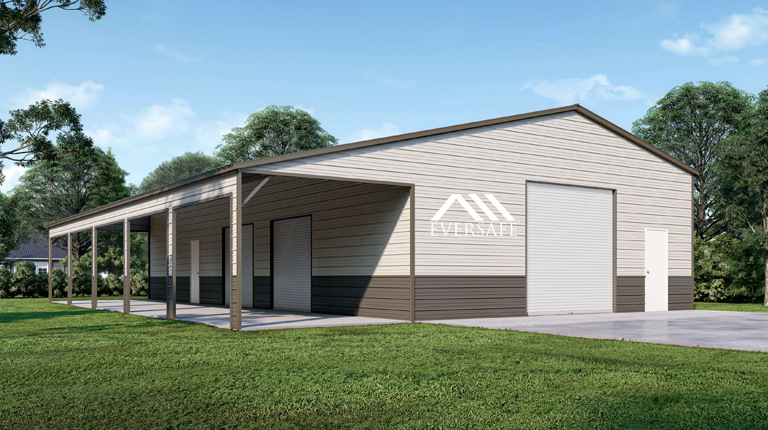 Our 30×60 metal buildings are high quality and versatile. Every metal building is manufactured using only top-quality galvanized steel and our 30 x 60 metal buildings are installed by professional installers within a couple of days after they arrive at your jobsite. Eversafe offers a wide variety of steel garages, metal building, steel workshop buildings and metal RV shelters that are virtually maintenance free. We go the extra mile and stand by our metal buildings and our customers 100%.
30×60 Metal Buildings For Sale
Prices for 30×60 Metal Buildings
Our 30×60 metal building prices will vary depending on the height of the walls, the gauge of the steel sheeting and steel framing, the size and quantity of roll up doors, the quantity of walk doors and quantity of windows and whether you choose to insulate the building.
A 30x60x12 steel building with two 10×10 roll up doors, one 8×8 roll up door and a walk door is $24,735. This price will increase if you add doors or windows or if you make the building walls taller. Please note that this price is only good in specific States and may vary depending on local building code requirements as well as snow and/or wind loads.
If you want to add storage to your 30×60 metal garage, you can add a lean-to. The lean-to can either be completely open with no wall sheeting or be fully enclosed.
Why buy 30×60 steel buildings?
Eversafe offers many features when you're having a metal building installed on your property, the best being galvanized steel. Steel is extremely durable and the best product out there to cover metal buildings. It offers a terrific warranty and is virtually maintenance free. A metal building on your property will last 30 or 40 years and will still look great decades later. Steel buildings will also add resale value to your property when selling.
Our metal garage buildings can stand up to extreme weather, such as high winds, heavy rains, snow, ice or any other elements. if needed, our buildings can be certified to met local wind and/or snow loads.
Uses for 30×60 metal buildings
Uses for 30×60 metal buildings are endless. Whatever use you have, whether it's a metal garage building, a workshop, a storage building, a steel barn or a metal RV shelter, a metal building from Eversafe will do the job. A better alternative to canvas or wood, our metal buildings give you years of maintenance free use and peace of mind. you can store your cars, RVs or boats, heavy equipment or farm equipment knowing they're protected from damaging elements, vandals or theft.
We offer a variety of options for 30×60 metal buildings. This includes roll up doors, walk doors, windows, insulation as well as a variety of colors for the walls, roof and trim.
Installing 30×60 Metal Buildings
Only qualified and trained crews install of our 30×60 metal buildings. As soon as they arrive at your job site with your building, they'll check to ensure that your pad is level and that there is enough room to install the building so they can start the installation process. The installation of a 30×60 metal building will take roughly 2 to 3 days.
For further information about our 30 x 60 metal buildings of any size, please call us today at 1-800-374-7106.
*Prices subject to change without notice and are subject to certain terms and conditions on this website. Prices may vary based on local building code requirements. Pictures displayed are examples only and may vary from actual model selected.