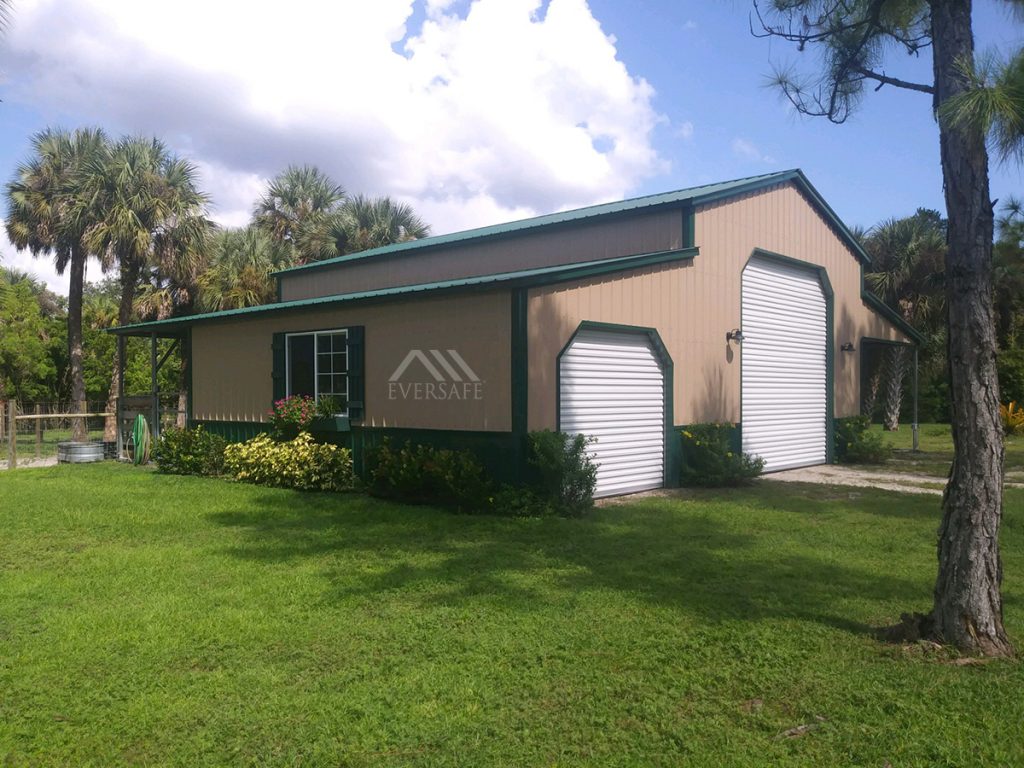 Eversafe offers the highest quality Metal barns with the most economical pricing in the industry. Our Barns are customizable so they can be manufactured based on your own design or plans.
You can choose from our economical standard Barn or add lean-to options to match your exact needs. Our Steel Pole Barns can be used for Farm Equipment Storage, Tractor Storage, and Hay Storage can be used as Horse Barns and to house other livestock.
Eversafe's Agricultural Building Kits are pre-engineered and manufactured to meet your exact specifications then shipped to your site ready to be put up.
Prefabricated Metal Farm Buildings are quick and easy to assemble when compared to traditional stick framed construction which requires specialized labor, can take weeks or even months to build and creates job site material waste.
These Metal barn kits for sale are manufactured using the highest quality steel, coatings and finishes. This ensures you will receive the strongest and most durable metal barn building available in the industry. Our barn kits are engineered to match your custom design and specifications then delivered right to your jobsite with installation starting the moment the building is delivered.
You can select a standard metal barn which is the most economical and then chose which options and features you want to incorporate into the design, or you can submit your own custom plans, the choice is yours.
Check out our amazing selection of monitor barns which can be erected quickly saving you tremendously on labor costs and eliminating the material waste that is typical on a wood‐frame construction.
The heavy duty hot dip galvanized steel frames offer long term protection for your building against structural corrosion and the high maintenance costs caused by wood rot and member warping.
We can customize lean-to's, garage door openings, wainscot finishes, window openings, drive-through functionality, partition walls and a wide selection of vibrant and attractive colors and trim.
Shop our wide variety of monitor barns shipped directly to your job site and erected at no additional cost!
Metal Barn installation is conducted nationwide by our licensed and insured construction crews in the lower 48 states. Experienced and knowledgeable in the metal building industry, we can design metal barns in Florida to meet hurricane code winds. All of our buildings are Florida State approved and provide exceptional shelter to your most valuable needs.
Our agricultural and metal barns in Texas are also designed to meet strong winds and can be customized for cattle barns, loafing sheds, livestock shelter buildings and can even incorporate partition walls for multiple applications. With our exceptional metal barn kits, we have farm buildings that can match any budget and be put up in record time.