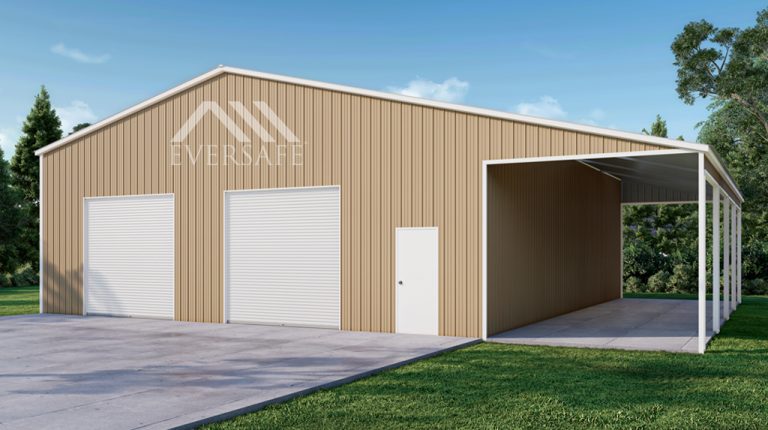 Eversafe's  high-quality 40×50 metal buildings are the perfect choice for consumers looking for structures made of high-grade galvanized steel. Included with every purchase, our 40×50 metal garages are installed by professional contractors and erectors. Build times may vary, but typically a buildings suck as this could be built within about 4-5days. 
Our metal buildings can be used for applications such as metal garages, metal workshops, steel storage buildings and metal RV shelters which require little to no upkeep. Our reputation speaks for itself with an A+ BBB rating and some of the best warranties offered on all metal garage buildings.
40×50 Metal Buildings For Sale
40×50 Metal Building Prices
Factors that affect the price of a Metal Building vary, including the following:
Height, Width, and Length of the building

Gauge of steel sheeting

Gauge of steel framing

Adding insulation

Quality and size of rollup doors

Quality of walk doors

Quality of windows
As an example, our 40x50x16 metal building with 3-12×12 roll up doors and one walk door is $55,950 delivered and installed. The more features and accessories added to the building, the greater the cost of the structure. Please note that this price is only good for specific states and may vary depending on snow and/or wind loads and local building code requirements.
You can also add a lean-to to your 40×50 metal garage which is a cost-effective way to increase storage space.
Why buy a 40×50 steel building from Eversafe Buildings?
There are many reasons to buy a metal building from Eversafe Buildings. We offer a wide variety of styles, colors, and models to choose from. We use only high-quality galvanized steel which is durable, long lasting, and a great cost-effective way of constructing a metal garage.
The traditional methods of constructing a building with wood are fading. Wood poses too many issues and demands the responsibility of constant maintenance. In 2019, steel buildings are becoming increasingly popular not only because of their strength, but because of their affordability. Our metal garage buildings are not affected by hurricane winds or heavy snow.
Upon request, and for an additional fee, we can provide certified stamped plans to meet any local building codes for the county.
40×50 Metal Building Uses
Possible uses for 40×50 metal buildings are endless. Some examples are metal garage buildings, workshops, storage buildings, steel barns, or metal RV shelters. our steel buildings do not rot, fade, or weather like canvas or wood buildings. our steel garages are pre-engineered and designed to stand the test of time. Store your cars, RV's, boats, heavy equipment, or farm equipment with the guarantee that your valuables are protected.
We offer many options for 40×50 metal buildings such as roll up doors, walk doors, windows, and insulation. We also have a variety of colors to choose from for the walls, roof and trim to customize or color match your building.
Installing a 40×50 Metal Building
Our 40×50 metal buildings and garage kits are installed only by highly trained and qualified contractors. upon delivery, the installers will verify that your site and pad are ready, and your metal building will be installed in approximately 3-5 days (weather permitting).
For further information about our 40 x 50 metal garages of any size, call us today at 1-800-374-7106.
*Prices subject to change without notice and are subject to certain terms and conditions on this website. Prices may vary based on local building code requirements. Pictures displayed are examples only and may vary from actual model selected.