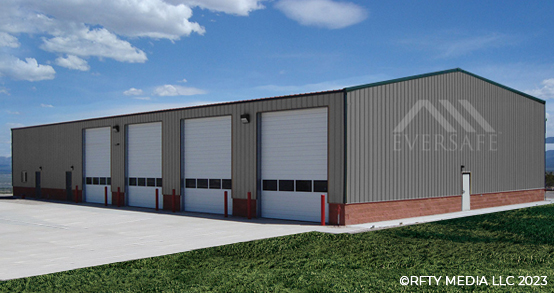 Eversafe Buildings offers commercial steel buildings for many uses, delivered and installed in Texas. All prices include free delivery and free installation on your concrete pad.
Our steel buildings are top quality backed by a workmanship warranty and quality warranty that covers any issues with the building following installation.
All crews are licensed and insured giving you peace of mind knowing that you're getting the best installers for your metal building.
Commercial Steel Building Warehouse in Texas
Commercial steel buildings in Texas can be designed for your particular industry's storage needs. Our metal buildings can be used for a variety of applications. If used as a transfer station, we can install multiple dock doors and opening based on your requirements. If you're using it for commercial storage of perishable goods, we can insulate just the roof, or the entire building. It can also be used as a warehouse, or for any other type of purpose. We can customize your metal building based on your specifications. This includes the building width, length and wall height. We offer buildings up to 70' wide, 20' high and as long as you need.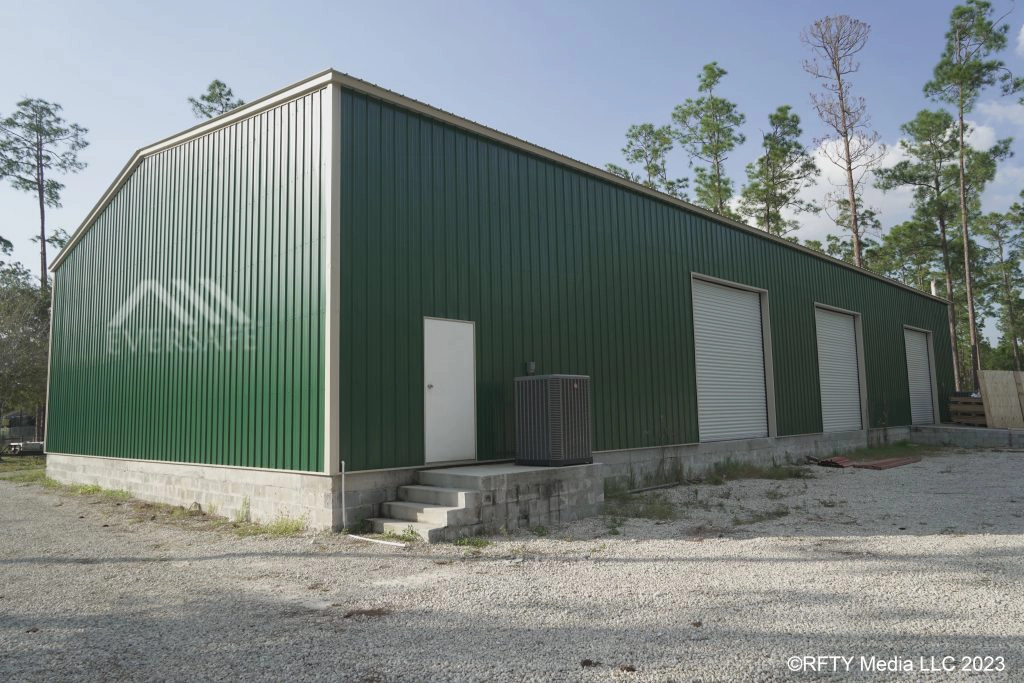 Commercial Flex Office/Warehouse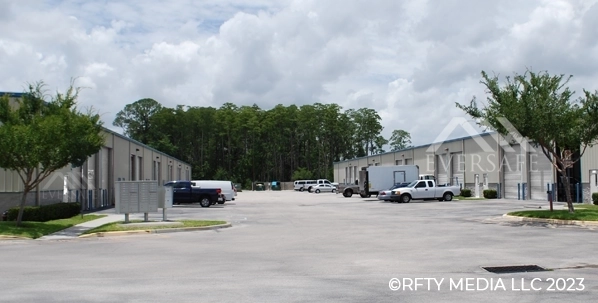 Our metal buildings can be easily customized with a hybrid entry porco, or a large glass storefront for showrooms, and office admin areas. Other uses include churches, meeting halls, fellowship halls, and associations. You can use the hybrid roof only as a porco for a covered walkway or outdoor  meeting area.
Easy to insulate, our steel buildings are simple to build out, and run conduit to add wiring. Aesthetic accents include accent panels or wainscot two tone color on the walls
Commercial Steel Building Prices
Our commercial steel building prices in Texas include delivery and installation and make projects feasible. Commercial metal buildings range from $10.00 per square foot to $25.00 per square foot depending on your location, size and added accessories and customizations. Because our buildings are all steel, this means virtually no maintenance, so you can focus on operating your business and making money not wasng it repairing your building. Eversafe commercial steel building pricing you can afford.
Check out these popular commercial steel warehouse building prices in Texas
Commercial Steel Building Construction
Feel secure knowing that our top notch construction crews in Texas are licensed and fully insured. Meaning your building will be professionally installed and backed by a workmanship warranty against any defects. Our steel commercial buildings are finished off with quality trim work ensuring your building will look great for years to come.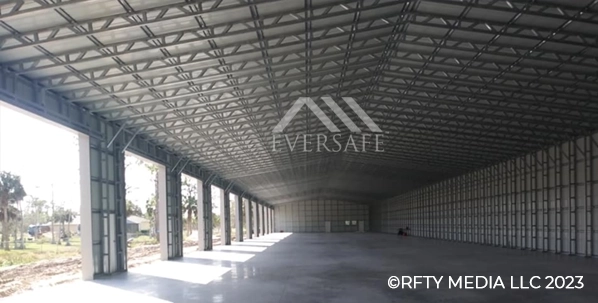 When you order your metal building from Eversafe Buildings, you can customize the layout, including the size and locations roll up doors, walk doors, windows and any framed openings you need. We can also add separate areas with lean-tos for a side office, or receiving departments.
Need a concrete contractor referral? Please let us know and we can refer someone in your area.
Commercial Steel Building For Churches and Assembly
A commercial building from Eversafe is ideal for use as a church, and looks great with a 4/12 roof pitch. They can also be used for summer camp mess halls, athletic centers and can be used for large gatherings. Wedding venues and banquet halls are other applications for a commercial metal building.
Commercial Boat and RV Storage Facilities
The past three years has lead to a huge surge in people returning to recreational activities, both indoors and out. Eversafe meets the demand for durable, cost effective commercial boat and RV storage facilities, as well as recreational buildings and athletic facilities.