A One Car Garage in Florida is the perfect addition to any property! We provide turn key installation on all of our One Car Garages and include FREE Delivery and FREE installation on your concrete pad.
Our Metal Garage Buildings are manufactured using 100% American Grade Commercial Steel. You can feel confident in purchasing a steel building from a company truly based in the United States. We are a proud supporter of the "Buy American Act."
For direct and immediate pricing, call 1-800-374-7106 and speak with our experienced building specialists who will design your single car garage while staying within budget.
Design A Custom One Car Garage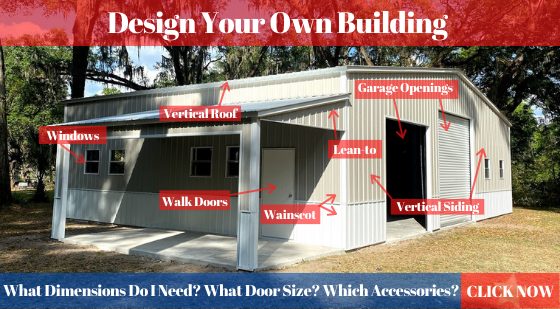 Looking for additional storage at a low cost? Add a lean-to on one side to provide shaded and covered space at a fraction of the cost. Choose a garage opening that works best for your application. For example, when storing a Recreational Vehicle in your Florida one car garage, we recommend using a 14'H X 14'W steel framed opening. This ensures enough clearance space for the vehicle to easily move about the interior.
Classic car collectors love storing their automobiles in our garages and typically require a 8'x8' or 10'x10' opening which is more than enough to safely move these precious vehicles around.
Adding windows in certain areas can be extremely beneficial to allowing natural sunlight inside the structure and can be placed in strategic places for a home office or mud room. Walk doors can provide easy access to your building and are equipped with key and lock for maximum protection. 
Designing your first custom one car garage can be as easy as giving us a call. Our experienced building specialists have decades of experience crafting steel garages to meet your exact needs to fall within your budget! Submit a quote to our estimating department or give us a call @ 1-800-374-7106 to receive an immediate and up-to-date pricing.
One Car Garage: Engineered to Meet Hurricane Wind Ratings in Florida
Weather patterns have been changing for decades as mother nature has become a lot more unpredictable. With coastal cities such as treasure coast, Vero Beach, West Palm, Naples and others witness this change, Eversafe is here to help maintain your confidence by providing a durable and long-lasting solution to steel storage.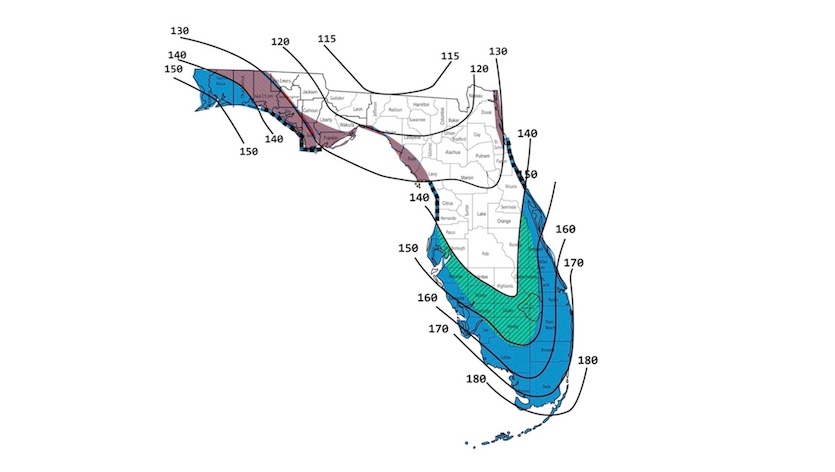 In Southern Florida, our standard models can withstand up to 150 mile per hour winds and can be upgraded to provide full protection in hurricane zones of up to 170MPH. These 1 car garages can stand the test of time in any environment.
Zoning and permitting in these coastal cities can be a challenging ordeal at times. Eversafe can take the challenge out of permitting by providing you our Stamped and Certified Drawings (at an additional cost) so that you can focus on other important issues. Once these engineered drawings have been complete, simply take these to your county for your building approval.
One Car Garage Options & Accessories
Our One Car Garage can be designed in several ways. The most popular method during the creative process is adding a wainscot finish to the building. This will take a traditional looking building and give it additional flare and architectural appeal.
As you can see in the corresponding picture, wainscot is the combination of two different colors on the siding of the building. With a wide variety of color configurations, customers typically will match the color of the building to their existing home.