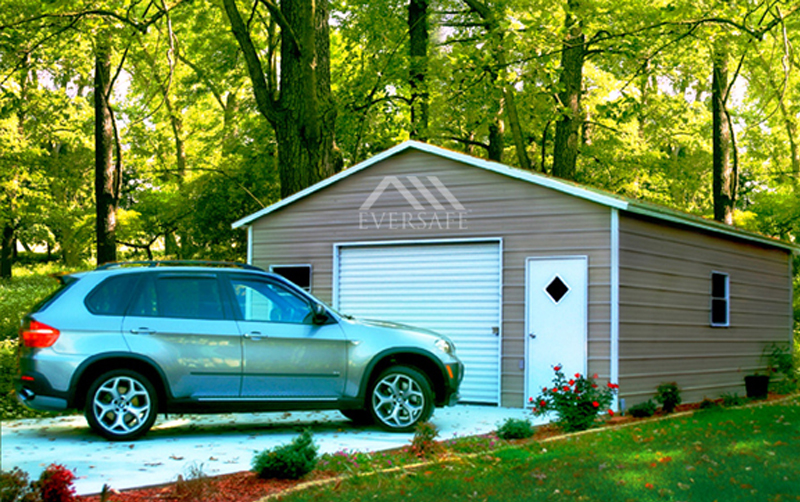 Eversafe's standard one car steel garage price starts at $6,248.00 and comes complete with one 8'x7' roll up door and one walk door, including free delivery and installation on your pad. Our buildings are designed to comply with your local building codes and can be certified for state and local snow and wind regulations. They are strong and secure, built to last and designed to remain attractive using high-quality protective coatings and paint.
Our small garage building models can accommodate one car with a small boat, ATV or work bench. In addition to our standard 18' x 20' single detached garage listed here, we have other standard single car metal garage kits such as 18'x24', 20'x24' and 20'x30'. They can also be accessorized with additional doors, windows and vents. If you are parking vehicles that require a taller door or you would like to put in a car-lift, Everafe's one-car garage kit models can be built as tall as 20' at the wall.
Eversafe hybrid combo models are available that combine an enclosed garage or workshop building with an open walled carport or porch attached. Many customers add a lean-to roof with open walls for a low-cost shaded area or enclose the walls for horses or extra storage. Our metal buildings in Florida are designed to meet the hurricane wind loads and heavy frames are utilized when shipping to the New England states.
We offer a selection of 12 colors and can add two-tone wainscot walls or accent panels. If you want to incorporate your own materials such as stucco or HardiePlank, you can easily customize our steel garage kits for a beautiful dream cabin or lodge. Call Eversafe today at 1-800-374-7106 for more building kit prices and information.
*Prices subject to change without notice and the terms and conditions. Local building codes may vary price. Pictures shown are examples only and may vary from model selected. Please call us at 1-800-374-7106 to speak to one of our Building Specialists for more details.