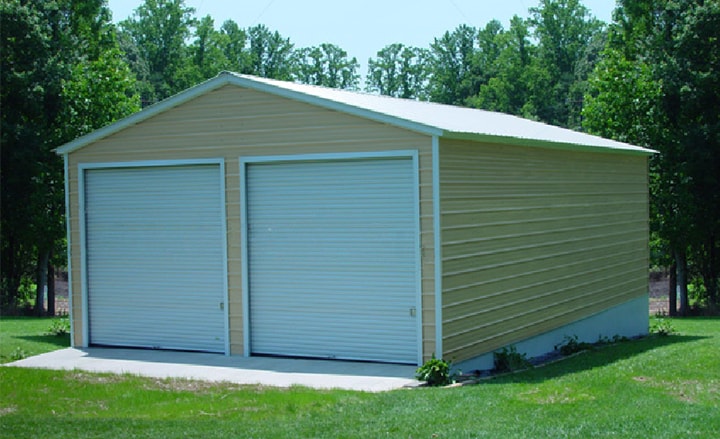 Eversafe's two car steel garage features two 8'x8' all steel garage doors, a steel walkdoor, free delivery to your building site and free installation on your pad. They are easy to customize with drive-through setups available if your site allows for it and you can also add doors to the sidewalls of the garage.
With a selection of 12 colors and the option of accent panels and two-tone wainscot it's easy to match your home. You can use windows to dress your garage building up further while adding natural lighting and ventilation. Call us at 1-800-374-7106 for more information and pricing on the variety of accessories we offer.
If the 22'x25' standard double car garage is not the size that you need, Eversafe offer's other sizes that will comfortably accommodate two vehicles. Economically add a roof-only lean-to for parking your vehicles and trailers out of the sun and rain or enclose the lean-to walls for secure storage. Eversafe offers hybrid models that combine a steel carport and an enclosed area. Our steel buildings in Florida are engineered to meet the hurricane wind loads and with additional frames in heavy snow areas.
*Prices subject to change without notice and the terms and conditions. Local building codes may vary price slightly. Pictures shown are examples only and may vary from model selected. Please call us at 1-800-374-7106 to speak to one of our Building Specialists for more details.