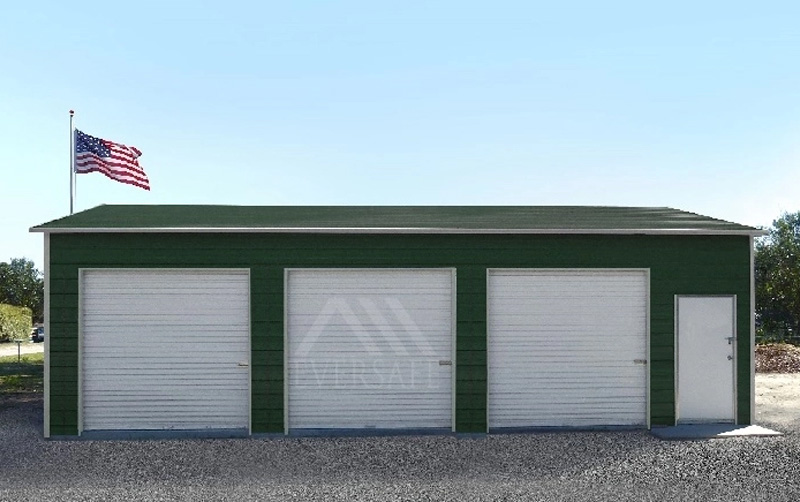 Eversafe's 24' x 35' x 10' three car garage building price starts at $12,555.00 and features three 8'x8' roll up doors and one walk door with keyed lock, all with free delivery and installation on your pad. Your garage doors can all be placed on the same wall with the option of varying the height and layout to accommodate your needs.
For competitive 3 car garage prices you cannot beat the quality and affordability of Eversafe buildings. For years, our company has helped residential and commercial property owners enhance their properties with steel buildings that are affordable as installation is included in the price and they look great for years. Rather than paying more and waiting for wood or concrete structures to be installed, you can have these steel workshops and car storage buildings put in and start using them right away within weeks. Here's a better comparison of prices for 3 car garages different states and types of structures:
Car Metal Garage Construction
These 3 car metal garages are a popular in Florida, Texas and Georgia areas that see routine hurricane activity because of their durability. Some states now require land owners to build up their site and foundation with concrete, gravel or other materials to match or exceed the height of the crown of the road because of hurricane flooding. The concrete slab should also be reinforced to better support the weight of an RV and drainage can be placed around the building to further minimize the possibility of flooding. Our all steel buildings also will not crack, corrode, get infested with termites and are proven to withstand hurricane-force winds, with high wind engineering for both Florida and Texas. Eversafe building kits are versatile in uses as a storage facility for multiple vehicles including boats, cars, RV's, motorcycles and more.  They allow for easy future expansion by extending the length to add more storage space or even a small office.
Metal Workshops
Eversafe offers durable metal workshops and affordable 3 car metal garage prices. You can get a free quote for your metal structure directly from our site or by contacting us today. Our experienced team of techs is happy to provide you with the information and assistance you need to make the best decision for your property and budget. We can design your garage building with a separate workshop area that is self-contained.  Contact us today for more information about these structures and see why they offer the best options for residential and commercial properties throughout the United States. 
Other steel building sizes that can accommodate three vehicles are available including 24'x30', 30'x30 and more; call us at 1-800-374-7106 for additional options. Our hybrid models allow for a secure enclosed garage with a carport combined or you can add an open walled lean-to attachments for shade. Eversafe's standard 3 car steel garage kit can be designed to meet the snow loads of New Hampshire and Maine as well as the hurricane force winds in Florida. Our metal buildings are designed to remain attractive for many years while protecting your valuables. You can select from 12 colors with options for two color wainscot walls or vertical accent panels and easily match the aesthetics of your home.
*Prices subject to change without notice and the terms and conditions. Local building codes may vary price. Pictures shown are examples only and may vary from model selected. Please call us at 1-800-374-7106 to speak to one of our Building Specialists for more details.