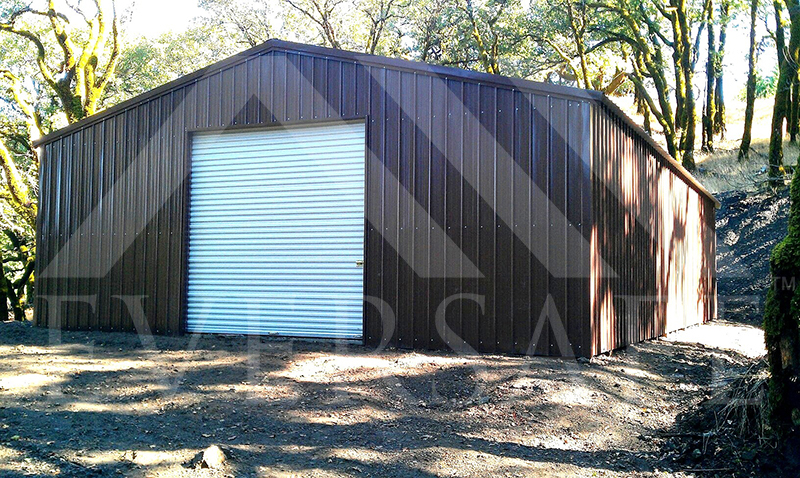 Eversafe's 40'x60' commercial steel garage building can hold 15 cars and comes complete with two 10×10 roll up doors and one walk door. Free delivery and installation on your pad is also included. Extra doors, vents, windows, skylights and several other accessories can be added. Our metal building kits are designed to meet your local building codes including stamped engineer drawings and in Florida are manufactured for hurricane wind loads and the snow loads in the northern and mountainous states. If this size isn't exactly what you need we have other commercial garage building configurations available like 42×65, 40×80 or 45×75.
Eversafe offers a selection of 12 colors and options such as overhangs, mansards, facades and two-color wainscoating to dress the building up. Roof-only lean-tos can be added for a shaded parking area or they can be enclosed for secure storage. Exterior walls made of stucco, masonry, wood and glasswork can be integrated making it easy to match or fit the aesthetics of nearly any other building in the area. If you need pull engines inside the building, cranes and hoists can be designed to be supported by the building's frame.
Regardless of the size or complexity of your garage project, you can rely on Eversafe's 20+ years' experience supplying and constructing prefab metal building kits. Call us today for more information and pricing at 1-800-374-7106.
*Prices subject to change without notice and the terms and conditions. Local building codes may vary price. Pictures shown are examples only and may vary from model selected. Please call us at 1-800-374-7106 to speak to one of our Building Specialists for more details.