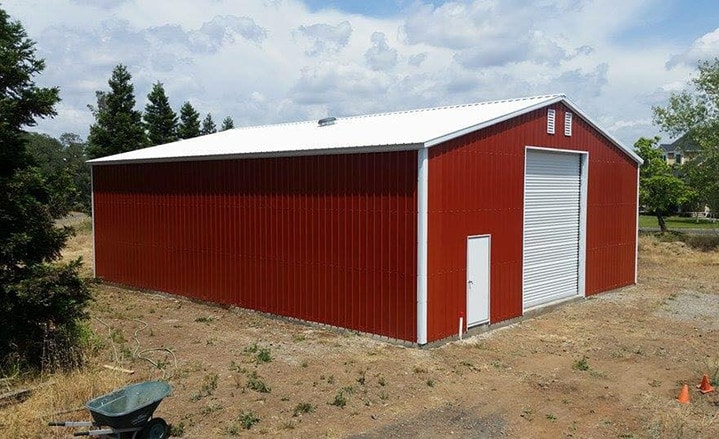 The Eversafe 40'x50' steel workshop building special price listed here is $25,853 and has one 10'x10' steel garage doors, a steel walkdoor with free shipping included. You have the flexibility in the placement of your doors to fit your property and meet your needs. Other workshop building kit sizes are available such as 40'x60' and 50'x50' and more.
Our commercial building line features all steel heavy duty hot dip galvanized truss frames, secondary framing including girts, purlins and doorframes. The steel roof and wall panels as well as the trim package are finished with a durable baked on polyester silicone enamel paint. Eversafe's color selection of 12 colors makes it easy for you to match the other buildings on your property.
Stamped certified engineer building drawings for your state are included to make it easy for you to pull a permit. Our metal buildings in Florida can be designed to meet hurricane wind loads and the heavy snow loads in the mountains and northern states. Our buildings are built to last a lifetime and designed to remain attractive for decades using the highest quality protective coatings and paint.
Eversafe's hybrid 40'x50' workshop metal buildings can also be configured in several ways to best fit your application. For example, you can add a low cost shaded area with a roof-only lean-to or carport style building to your enclosed workshop. You can also easily integrate different facades or decorative panels on the exterior walls for a custom architectural finished look.
*Prices subject to change without notice and the terms and conditions. Local building codes may vary price slightly. Pictures shown are examples only and may vary from model selected. Please call us at 1-800-374-7106 to speak to one of our Building Specialists for more details.