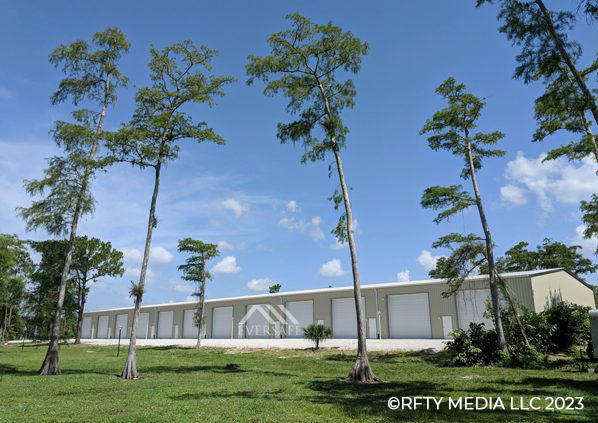 Eversafe offers free delivery and installation on all commercial steel buildings in Florida. With our expert design engineers you can create a a multi-functional commercial steel building that maximizes your space.
All of our  installation crews are license and insured in the state of Florida. Expertly trained in erecting large commercial steel buildings, our trained professionals will have your metal building up in a matter of a few days.
Speak with a building specialist for a space saving design and learn how to effectively make the most out of your budget.
Commercial Steel Warehouse Buildings in Florida
Our  Commercial steel warehouse buildings in Florida are versatile and can be easily customized for your application and business operations. The Clear span unobstructed interior height of Eversafe's pre-engineered  steel buildings allow for tall storage racks for organizing your inventory.
The door sizes and locations can also be adapted to meet your work flow as we can integrate large commercial drive through door openings as big as 16×16 and even smaller dock door sizes to allow direct floor level loading of trucks. Add a lean-to for your shipping and receiving office or administrative functions.
Commercial RV Storage Buildings in Florida
Our Commercial RV Storage Buildings in Florida are ideal for individual or multi-bay configurations. They can be designed with multiple hurricane rated roll-up doors for easy access and sectioned off into individual bays if required. Check out this Commercial RV Storage Building Testimonial!
Electrical conduits can be run throughout the structure powering interior lights, air hoses, charging stations, vacuums, electric garage doors and more. The roll-up doors are easy-to-use and require minimal effort to raise and lower them into place.
Commercial Steel Building Prices in Florida
Our commercial steel building prices in Florida include delivery and installation and make big building projects more feasible. A Commercial steel building from Eversafe ranges from $10.00 per square foot to $25.00 per square foot. Our metal buildings require virtually no maintenance allowing you to focus on your daily operational goals. We offer commercial steel warehouse prices you can afford in the state of Florida.
Every building designed and shipped to Florida are hurricane rated for your specific county and code approved. If your Commercial building project requires the use of stamped and certified engineered drawings, Eversafe can provide them for a small fee.
Check out these popular commercial steel warehouse building prices in Florida

Commercial Steel Building Construction
Eversafe provides superior Commercial Steel Building construction in Florida with all of our building projects. Our Commercial buildings can be customized with a lean-to on the left side, right or a covered overhang on the front or back. 
Eversafe customers have nothing but the nicest things to say about our installation crews located in Florida. There clean and efficient use of the space show the expert precision of their work. In as little as a few days your Commercial Steel building can be erected on your property.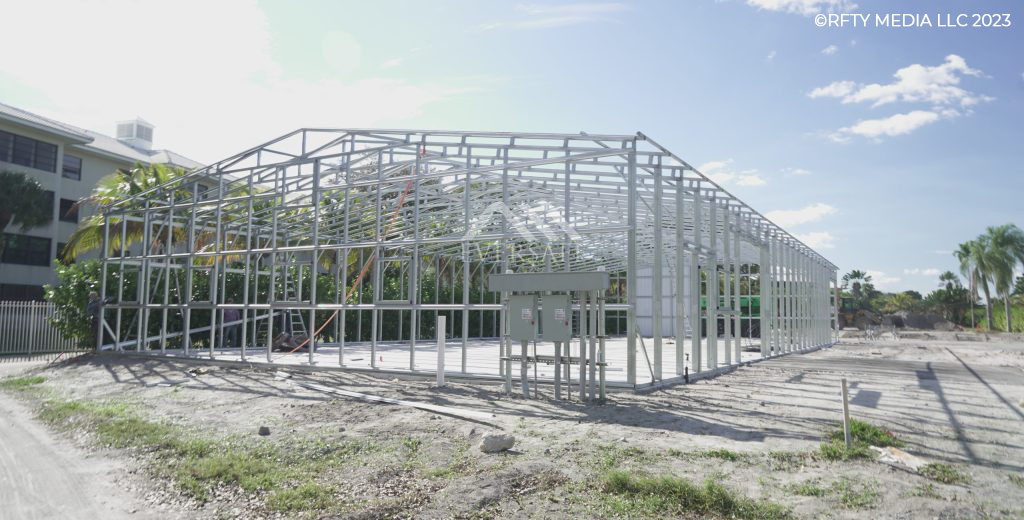 Every aspect of your building can be customized including the layout, size and locations of roll-up doors, walk doors, windows and any framed openings your require. We can partition walls or add enclosed lean-to's to create side offices, receiving departments or lavatories. Check out this Commercial style 2 Car steel Garage!
Need a concrete contractor referral? Please let us know and we can refer someone in your area.
Commercial Steel Buildings for Boat Storage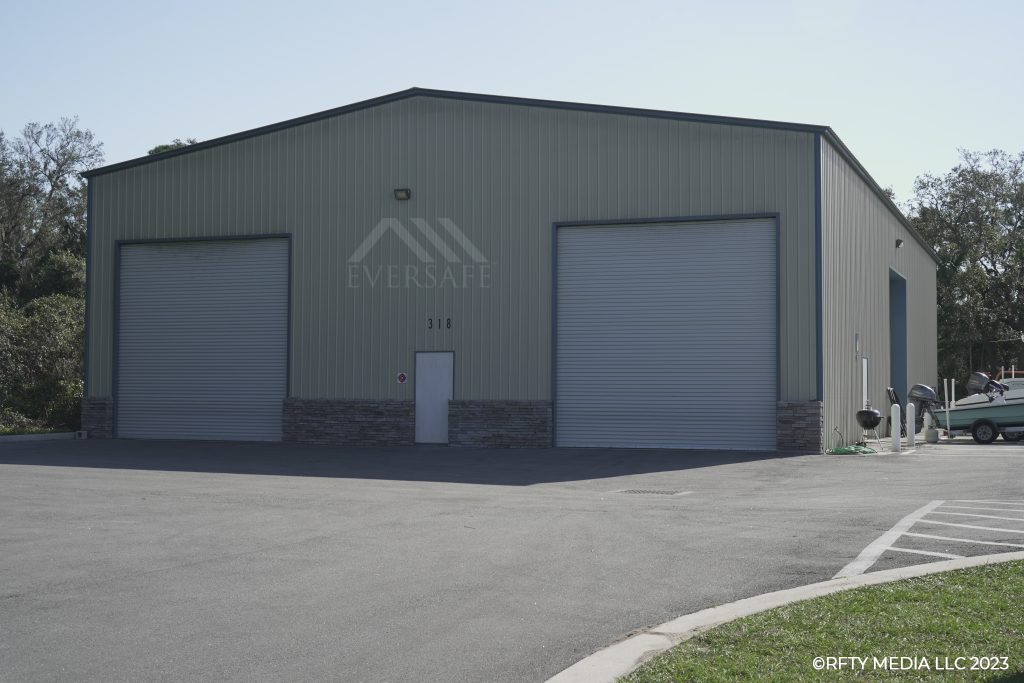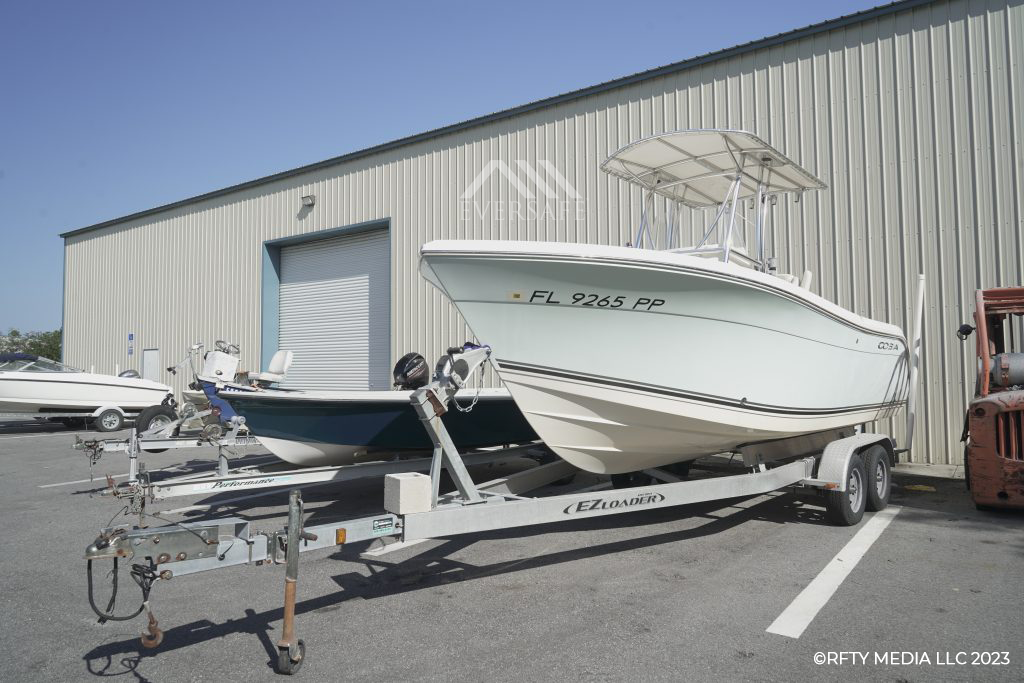 Eversafe Commercial Steel Buildings for Boat storage are perfect for individual or bulk storage of watercraft. Some common costs associated with boating consist of hauling the watercraft out of the water, winterizing, shrink wrapping and placing it on dry land on blocks. Although this is typical, Eversafe Commercial Steel buildings for boat storage can save you time and money during those yearly expenses. Check out this Commercial Steel Building for Boat Storage Testimonial!
Anyone that owns a personal watercraft, wave runner, yacht or air boat know that storing your luxury items on dry land incur additional storage fees at the end of the season leaving your boat exposed in an open lot. 
Storing commercial or personal watercraft inside the building can eliminate the need for costly shrink wrapping and provide additional protection against the sun. Commercial Boat storage buildings near the marina can easily cut boat transportation and storage costs and provide peace of mind keeping the proximity of your investments close to the water.
Commercial Wedding Venue Steel Building
Commercial Wedding Venue Steel Buildings are perfect for hosting seasonal parties, functions and weddings. With a Commercial space you have access to the clear span design using 100% of the interior space. A low-cost lean-to can easily be added to create additional covered space including the addition of an overhang on the front or back. Check out this Commercial Wedding Venue Testimonial!
Commercial wedding venue building can include custom window frames to create an architectural appeal of your choosing. With colors to match your existing buildings on the property, Commercial buildings by Eversafe will give you the peace of mind you deserve!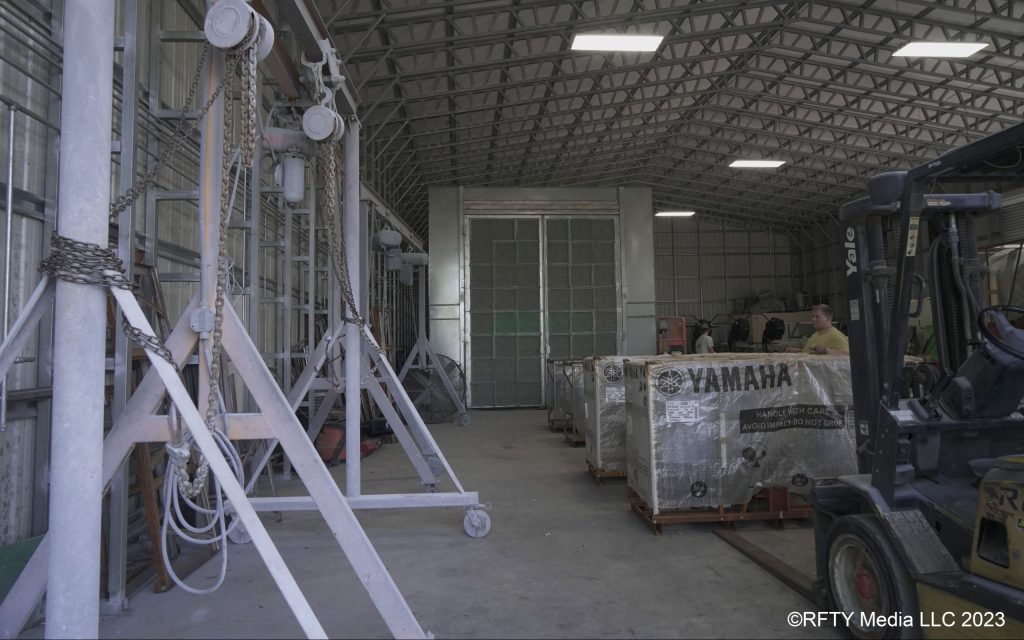 Ideal for commercial and industrial applications, our machine shops have a clear span interior utilizing 100% of the space. With high clearance and a wide open design, the possibilities of configuring your commercial steel building are endless. 
Our commercial steel buildings can be designed with multiple openings which can be used as work bays. The wide variety of different sized openings allows for multi-applicational uses.
Stamped certified engineered drawings are available upon request for areas that require wind load specific certification.
Commercial Steel Building Florida Reviews
Eversafe strives for 100% customer satisfaction and provides high quality prefab metal buildings you can trust at affordable prices. Rated A+ with the better business bureau, Eversafe complaints, reviews and feedback are addressed rapidly to provide superior service.