Raul C. needed a steel garage building for gatherings in West Palm Beach, Florida out by the family pool. He was not interested in an ugly ordinary steel carport like most companies carry; he was seeking something dressier that would complement his house instead of being an eyesore. For that reason he decided to go with an Eversafe Pavilion Style Steel Building because we were able to offer an attractive design that was engineered for hurricane winds as well. Raul was also happy that we offered him the best price and could guarantee he would have his project completed in time for his upcoming family reunion in a few weeks.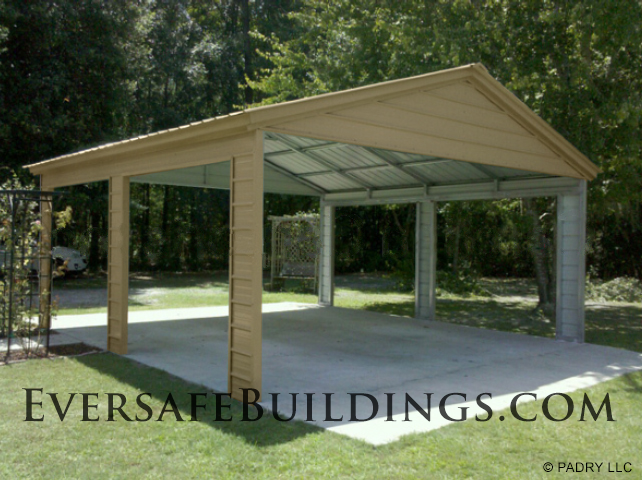 Since Eversafe roof system steel garage buildings and carports can be ordered several different ways, Raul had plenty of options. The basic model has a roof only system without any walls or framed openings. The heavy duty hot dip galvanized coated frames offer extra protection in open wall buildings. Some customers elect to leave partial sheeting on the walls to deflect the rain during blowing wind conditions. Raul decided to use a decorative design that shielded around the steel frame columns or legs and had the gables sheeted as well. He also liked 3:12 roof pitch which makes the pavilion more airy, sheds the rain quickly and is aesthetically appealing in residential suburban environments. Other customers sometimes add an architectural accent using an angle cut at the top of the framed openings.
Since the project was located in Palm Beach County, FL with 170 MPH winds the pavilion steel building was hurricane rated and designed for extra strength. Florida stamped engineer drawings were included with the hurricane approval code number so pulling the permit was made easy. Now family gatherings are a pleasure in the shade of their beautiful pavilion style open garage building. Picnics, barbecues or just sheltered space from the brutal Florida sun are now enjoyed by all under this Eversafe building.
Call Eversafe today at 1-800-374-7106 and speak with one of our metal garage and carport experts for pricing and more information.