Bob Bennet in Ft. Myers Florida was searching for a residential steel garage that could handle tough hurricanes and match his home which is tan with white trim. He saw that Eversafe Steel Buildings has 13 colors available to choose from and was easy for him to match the house. He contacted us and his decision was made when we offered him the best price for his metal garage which included delivery and construction. Eversafe delivered and installed Bob's garage metal building in FL with a low cost lean-to added on for extra storage space and a shaded parking area for vehicles a few weeks later.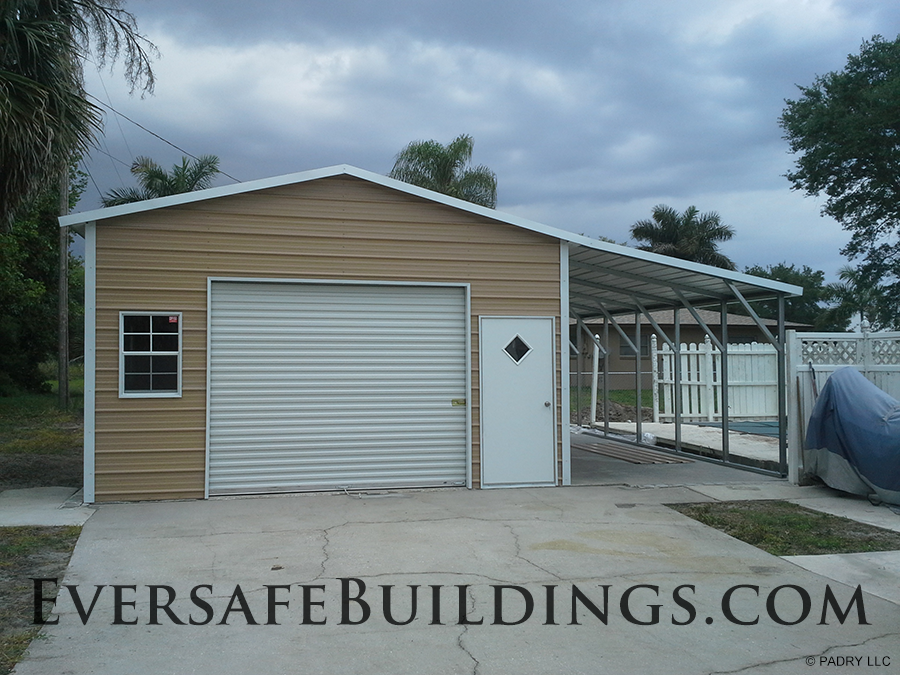 Every Eversafe garage kit is certified in Florida to meet the strict hurricane code. Bob was relieved that Eversafe could engineer an attractive building for him that that would be approved by the city and that he could afford. We supplied his 150 MPH Florida hurricane approval code Engineer stamped drawings so that he could obtain a permit for his metal building. Since he was in a high wind area extra steel bracing was installed on the lean-to from the leg to the roof. Lean-tos are easily added to our steel garage at the best prices anywhere. They provided a low cost solution for extra storage and shaded carport to protect against the brutal Florida sun.
The optional accessories Eversafe provides allow you to easily customize your metal garage building and Bob chose to add windows, walk doors and a heavy duty wind certified reliable roll up door. All our garages include free delivery and installation by our courteous professional factory trained crews. This entire project only took two days to construct and our customer was thrilled with the end result.
Call Eversafe today at 1-800-374-7106 for more information and prices on metal garages and carports.